Keeping you connected


Keeping you connected


Keeping you connected
GSM Lift Phone Solution
NBN GSM Lift Phone Solution, Property owners and building managers in charge of lifts need to be on the front foot when it comes to being in control of the emergency procedures for their elevators even more with NBN being switched on in more and more areas every day.
One easy way to enhance the safety of a property is to ensure that all elevators have been updated with a functional communications system to ensure your lift phone meets and complies with the new Australian standards.
WHAT STEPS YOU NEED TO TAKE
Check if your area or apartment building is NBN ready, and note the actual technology used.  Take note of the type of technology rolling out for your building? Eg:  FTTN/FTTB (Fibre to the Node or Fibre to the Basement)  Click here to View NBN availability
With the NBN rolling out throughout Australia its important for all building managers, homeowners should register there lift phones with the NBN.  Register your Lift Phone NOW!!!!   Click Here to Register.
ARCS recommends getting your building lift phone lines ready for the NBN prior to the cutover date, is something you should be considered from the day you are informed the NBN is arriving.
You may also be required to change or update your lift monitoring service, in most cases this will not change.  Locate a suitable GSM service provider, take time to look around, currently, some service providers are offering 3g/4g SIM for around $10 per month with unlimited calls.  If you require assistance with this Call ARCS today.
ARCS has NBN GSM Lift Phone Solution.
Installing a fully compliant NEOSLIFT is suitable for GSM networks operating in 900/1800 MHz bands and for Vodafone, Telstra Next G & Optus dual 3G networks utilizing the 850/900/2100 MHz UMTS bands. Australian standard dial tone, ring tone, and ring cadence are supported.
The NEOS3003 has a variety of uses Including Back To Base Alarm systems, Reliable Emergency/Medical phone system and much more.
Comfort tone is provided during call set up, small and so compact these units can be mounted anywhere.  The NEOSLIFT system is  compatible with all GSM networks currently operating with Australia and provides you with the following options for your emergency lift communications system:
 NEOS3001 3G01
3G Gateway for lifts, Intercoms, Alarms & Pbx systems by Aristel
Supports all carriers - all areas 800/850/900/1900/2100 Mhz
Take advantage of low cost capped SIM plan
Seamless call set up (no silent periods)
Ideal for PBX, Elevator Phones and Alarm Systems
 Hotline feature
Australian ring tone and ring cadence supported
 Caller ID pass through
 Supplied with a magnetic base antenna with 3-meter lead for best signal placement.
$395.00   inc GST
NEOSLIFT1 
Single Line 3G/4G Elevator Gateway by Aristel
3G/4G Voice Gateway
Battery backup  for up to 8+ Hours
Includes wall  mounting bracket
Antenna with 3M cable
Intercom line supports 48v DC & 90v AC ring (OK for a wired distance up to 5KMs)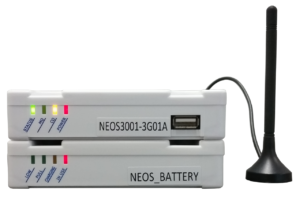 $647.90 inc GST
Compliant with Australian Standard
NEOSLIFT2 
Two Line 3G/4G Elevator Gateway by Aristel
3G/4G Elevator voice gateway with failover protection
Auto network failure detection with the alternate carrier in second SIMBattery backup for up to 8+ Hours
Includes wall  mounting bracket
Antennae with 3M cableIntercom line support 48v DC & 90v AC ring (OK for a wired distance up to 5KMs)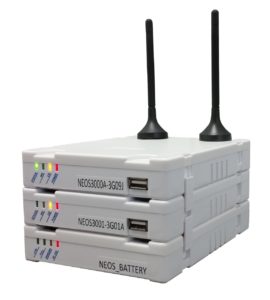 $1303.50.00 inc GST
Compliant with Australian Standards
With the option of an additional GSM backup unit, you can have separate carriers on each unit Eg, Telstra, and Optus.  If the main carrier's network fails the unit will automatically switch to the backup unit, keeping the lift phone fully operational in case of an emergency.
The backup battery is a great advantage with this model as it is resistant to power outages with no downtime, with full support and a 12-month warranty.
10M MINI COAX ANTENNA EXTENSION CABLE
10m Mini Coax SMA Male to Female
Insertion Loss 8db at 900Mhz
Antenna Extension Cable
NEOS BATTERY
Provides up to 8 hours back up for the NEOS3001 3G/4G gateways during power outages.
$117.00 inc GST