Cel-Fi GO OPTUS – Building Pack
The Cel-Fi GO for Optus Smart Repeater is the ideal product to boost and distribute a 3G/4G mobile signal within a building. Supporting voice and mobile internet for multiple mobile devices, boosting your indoor mobile coverage has never been easier.
FEATURES
Supports 3G (850) and 4G (700/1800) – only one band at a time
Designed for building applications
100dB of system gain
Includes external and internal antennas
Locked to Telstra's Mobile Network
Carrier approved
Band Selection Button

CEL-FI SETUP
The Cel-Fi GO2 will boost two bands at a time: 3G (900/2100) and 4G (1800/2100/2600)
SUPPORTED NETWORKS
Optus, TPG, Amaysim, Dodo, iiNet, plus more
PACK INCLUDES:
Cel-Fi GO2 for Optus
Pulse Clarity Series DAS in-building low PIM omni antenna – includes a 50cm pigtail with N female connector
Choose your external antenna:
Blackhawk Omni High Gain 698-2700 6dBi
Blackhawk LPDA 698-4000 12/14dBi
2 x 10m PT240 LSHF cable
240v Power Supply
12v Cigarette lighter Power Supply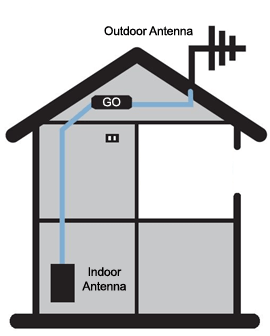 Can I have multiple indoor antennas connected to the GO? 
Yes, you can. There may be rare occasions where a single service antenna (one that provides your phone with signal) is not adequate enough to cover an area. This could be due to the building size, structure or the fact you want signal inside and outside. Chat to our team if you would like to know more.
*  Repeaters must be carrier approved as stated by ACMA. The Cel-Fi repeater is the only approved repeater for use in Australia