MDF Connections and MDF Upgrades
ARCS is fast becoming the No.1 choice throughout Sydney and surrounding areas.   We are the preferred company to complete all your MDF connections and jumpering requirements, including all NBN connections. 
We test and complete the connection through to your unit or office.  From A to B side connections and for all broadband Internet and voice service Installations
MDF Testing on Completion
ARCS Technicians are fully licensed, insured, and trained to perform a variety of tasks.  ARCS is your one-stop place for all your MDF, Adsl / Vsdl Voice, and Data cabling requirements.
Specializing in Adsl/Vdsl testing and repair. Using certified test equipment which is approved by Telstra and NBN for use on their networks.
ARCS Technicians can upgrade all your backbone cabling requirements from the old outdated copper cabling network.  Using CAT6 to meet the high-speed demands of the NBN.
Limiting the chance of crossed talk between pairs and other services.  Which carried on adjacent coppers pairs within the backbone cabling network between floors to each office.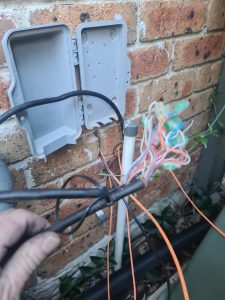 With the new NBN high-speed broadband now reaching unto 30 MHz, the need for upgrading to CAT6 or 6a to reduce cross-talk between services. 
Limiting the risk of dropouts and interference between services in other offices within the same cabling network.
Locate your TAG at the Main Distribution Frame (MDF) with your service identification number.
Jumper the A to B side of the MDF including NBN Jumpering or NBN connections.
Log entries in MDF books as per regulatory standards.
Perform quality checks across your lines for standard transmission speeds.
Provide Free Speed Test report whilst onsite emailed directly to you in PDF format.
Cabling Upgrades Cat 5, Cat 6 & Cat 6a
Patch panels
MDF Upgrade
Turn to the experienced technicians that you can trust to get it right the first time! 
Call ARCS today on 1300 638 311
MDF connections are required to be carried out from the MDF to A side or B side of the MDF and or Internal/Floor Distribution Frame (IDF) connecting your service thru to your unit or office.  This can be for either phone or DSL service, we can complete speed testing on completion.  Technicians will then notify you of the test results.
This could include any Error's found.  If a previous resident had a connection.  The port on the Main Distribution Frame (MDF) still maybe intact and connected thru to your unit or office.
Allowing connection to be uninterrupted through to your unit or office allowing our Technicians to finalize testing of the service.
We can even provide you with your current speed and inform you if you are achieving recommended line speeds based over the distance