Cel-Fi GO Repeater – Telstra Building Pack
Cel-Fi GO Repeater has been tested, authorised and approved by Telstra. For use on the Telstra Mobile Network
The Cel-Fi GO Repeater for Telstra Smart Repeater is the ideal product to boost and distribute a 3G/4G mobile signal within any building. Supporting voice and mobile internet for multiple mobile devices. Boosting your indoor mobile coverage.
This pack comes with the industry-leading -155 dBc PIM compliant DAS antenna. This features an ultra-thin, see-through design. Which allows the product to be nearly invisible when mounted. Yet provides industry-leading increases for in-building coverage and capacity. The antenna housing's translucent design makes it ideal for deployment in hotels, convention centres and other venues where aesthetics are of primary importance.
The Pulse Clarity Series DAS in-building low PIM omni antenna meets the most demanding PIM requirements for 2G, 3G, 4G (LTE) and WiFi bands.
FEATURES
Supports 3G (850) and 4G (700/1800) – only one band at a time
Designed for building applications
100dB of system gain
Includes external and internal antennas
Locked to Telstra's Mobile Network
Carrier approved
Band Selection Button
Bluetooth WAVE App for iPhone, Android & Computers

SUPPORTED NETWORKS
Telstra
Aldi Mobile
Boost Mobile
Woolworths Connect
IMPORTANT NOTE
Cel-Fi GO Repeater will boost a single band at a time: 3G(850) or 4G(700 or 1800). It is highly recommended to leave the GO in 3G mode to ensure voice calls are received. However voice on 4G will only work in selected areas. 
CEL-FI GO REPEATER SETUP
PACK INCLUDES:
Cel-Fi GO Repeater Stationary for Telstra
Pulse Clarity Series DAS in-building low PIM omni antenna. Includes a 50cm pigtail with N female connector
Choose your external antenna:

Blackhawk Omni High Gain 698-2700MHz 6dBi
Blackhawk LPDA 698-4000MHz 12/14dBi

2 x 10m PT240 LSHF cable
240v Power Supply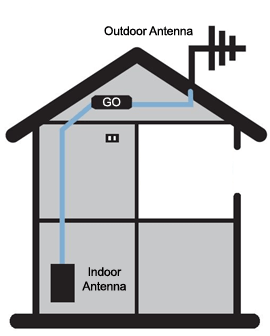 *  Repeaters must be carrier approved as stated by ACMA. The Cel-Fi repeater is the only approved repeater for use in Australia